Daniel J. Copeland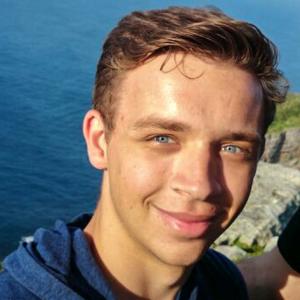 Daniel Copeland, 23, has always enjoyed learning about, understanding and experiencing different aspects of the natural world. It wasn't until he took his first breath underwater during an introductory ocean dive in Malta that Daniel's love for the underwater world rapidly bubbled to the surface.
By the time he left high school, Daniel had gained his PADI Open Water diving certification in Turkey, enrolled on a self-taught course in marine science, and embarked on a month-long expedition to Ecuador and the Galapagos Islands. Snorkelling with sea lions, sharks and penguins was all the confirmation he needed - a career revolving around the underwater world was now the only path for him.
In 2014, Daniel gained a first class degree with honours in Zoology at the University of Sheffield. Outside of his studies, he became a member of the university's sub-aqua club, serving on the club's committee and helping to organise dive trips around the UK. He was also trained as a drysuit and nitrox diver, and later began teaching fellow students as a BSAC Assistant Diving Instructor.
Daniel interned at the Marine Discovery Centre at Landaa Giraavaru in the Maldives in 2012, where he assisted the resident biologists with their turtle rehabilitation, coral reef propagation, and fish breeding programmes. It was here that Daniel also helped collect photo ID data of manta rays within Baa Atoll and the world famous Hanifaru MPA – later going on to assist other scientists studying marine megafauna, including tagging whale sharks in Tanzania.
Daniel has always loved digital media, and enjoys combining his scientific background with his multimedia skills to help him share his passion for the oceans. As the Media Manager for the Manta Trust, Daniel has collaborated with marine NGOs to spearhead online campaigns that garnered public support of protective legislation for sharks and rays, using social media to reach an audience of more than four million people. A keen interest in underwater photography and videography resulted in Daniel placing second in an amateur wildlife film competition ran by a UK natural history TV channel, with a one-minute film on blue sharks.
Despite the armada of anthropogenic impacts that threaten our oceans, Daniel believes that the biggest challenge is inciting the world to care about these threats in the first place. His goal is to gain a better understanding of how to reconnect people with the ocean - after all, a world that continues to be disconnected from its marine environment will have no interest in fighting to protect it. Daniel is honoured to be appointed the OWUSS European Rolex Scholar for 2015, and believes it will provide an invaluable opportunity for him to learn how he can play a role in rekindling a love for our blue planet.