Chloé Maréchal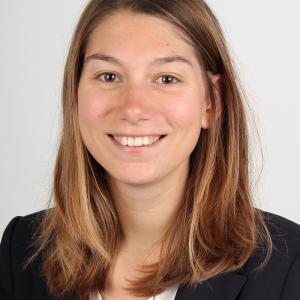 Chloé Maréchal, 24, of Lyon, France is a passionate diver currently pursuing an Erasmus Mundus Master of Science in Marine Biodiversity and Conservation. 
Her curiosity for the Ocean started early when reading Jules Verne and watching Jacques-Yves Cousteau documentaries. She started diving at the age of 18 and has since been certified as a PADI divemaster, PADI scientific diver and GUE fundamentals diver.
Her love for the ocean grows every time she dives. She has around 150 dives in the Mediterranean (France), the English Channel (France), the Caribbean Sea (Guadeloupe), the Yellow Sea (South Korea), the Coral Sea (Australia), The Cerbres Sea (Malaysia) and the Atlantic Ocean (Portugal).
After completing a bachelor in Biochemistry, at Claude Bernard-Lyon 1 University (France) in July 2010, she decided to travel around Australia with the intention to learn English and dive the Great Barrier Reef.  She also wanted to start having experiences in marine science so she choose to apply as a volunteer in different marine labs and had the chance to enjoy an internship in the Australian Institute of Marine Science (AIMS, Townsville). There, she worked on questions about the symbiosis between corals and nitrogen fixing bacteria. Since then she has developed a particular interest in marine microbiology and symbiosis relationship. This is why she chose to conduct her master thesis about microbial communities in sponges at the Center of Marine Science of the Algarve, Portugal.
She recently had the unforgettable experience to participate to a scientific expedition from Bremen, Germany to Cape Town, South Africa on board of the German research vessel Polarstern. She was part of a team working on the biodiversity and the activity of microbial biofilm in niches in the ocean.
Diving and science are not her only passion; she enjoys exploring new countries, discovering new cultures and meeting new people. Her master degree allows her to study in different countries as Portugal, Slovenia, Germany and Spain. In the last 3 years, she had the chance to work, travel or study in more than 10 countries on 4 continents. Those journeys expanded her worldview. She learned that cultural differences are more than just differences in language, food, appearances, and personal habits. A person's culture reflects very deep perceptions, beliefs, and values that influence his or her way of life. Her education and her travel made her realise how much marine biodiversity is important in an ecological, aesthetic and cultural point of view. It provides a wide variety of goods and services including vital food resource for millions of people. She truly believes that using the ocean in a sustainable way is an urgent issue and understands other cultures help to make efficient decisions about costal management and conservation planning. 
Chloé is passionate, hardworking, and she loves challenges. Her ultimate goal is to use diving to carry out research, exploration and conservation. She believes becoming the OWUSS Rolex European Scholar will help her to reach this goal and allow her to spread her passion for the ocean and diving and encourage people world-wide to help preserve and protect our ocean life.