Stefan Andrews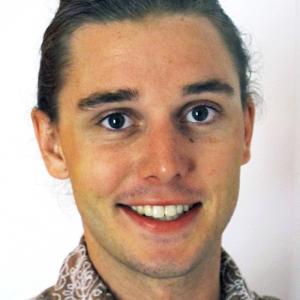 Stefan Andrews, 24, grew up in sunny South Australia where the ocean played a major role influencing his life from an early age. Scuba diving instantly captivated his attention and extended his world to appreciate the huge diversity of life that his local waters supported. Throughout his time studying Marine Biology at the University of Adelaide, Stefan connected with other enthusiastic young divers keen to explore, learn and gain diving experience and qualifications. Stefan developed his boating and diving leadership skills planning trips to a variety of ship wrecks and reefs right throughout the state and by his final year of university, he was ready for his scuba diving instructor course in the isolation of Vanuatu in the South Pacific.
On completion of his undergraduate studies, the young marine biologist, diving instructor moved to Cairns in tropical North Queensland to work on a busy daytrip vessel to the Great Barrier Reef where he thrived on each day's challenge of taking excited tourists on their first ever diving experience while educating them about the fish species, corals and environmental threats. Throughout his time in Cairns, Stefan was inspired by fellow instructors to continue his journey of exploration of new places, cultures and people which took him to a tiny island in Thailand's Andaman Sea, named Koh Phi Phi. The relaxed atmosphere of island life enabled Stefan to provide a more personalised diving experience for his students and truly express his deep passion for diving through every diver he met.
Throughout his time in Thailand, environmental concerns raised by other experienced and well-traveled divers resonated strongly within his mind as he was unremittingly reminded of the destruction of aquatic environments worldwide. The confronting reality that the structure and health of this newly discovered underwater world was declining at such a rapid rate instilled within him a devastating realisation. At this point, Stefan embraced his marine biology background and began volunteering as a research assistant in Western Australia, working on projects involving the ecology of important habitat forming seaweeds which structure temperate water ecosystems.
Stefan has recently completed his own research project as part of his honours degree at the University of Western Australia, involving a latitudinal study of seaweed recruitment over several hundred kilometers of isolated coastline. Now with the experience of over 2000 dives, Stefan feels strongly that scuba diving connects people with their environment and is influential to the way people live. He suggests that the more people are aware of what lies under the ocean, how they can have access to it and how they may be able to help, the more people will be in favor of marine parks, environmental protection of marine life and develop a greater appreciation of the importance towards sustaining oceans for the future.