Yoland Bosiger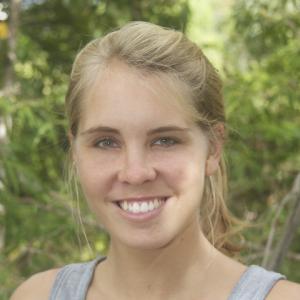 Our World-Underwater Scholarship Society's 2012 Australasian Rolex Scholar
Growing up on a sailboat and circumnavigating the world with her parents until age eight gave Yoland an early taste for the wonders of the ocean, travel and adventure. In her final school year, she completed her first scuba dive and began working on a local dive boat the following year, completing her PADI Dive Master.
Through her strong connection with the marine environment, Yoland became aware of the threats on her beloved oceans which led her to the unusual combination of a Bachelor of Science (Marine Biology) plus Bachelor of Laws degree at James Cook University (JCU).
While studying, Yoland was Dive Officer of the JCU Dive Club, organizing dive trips and social events. Yoland also volunteered for the Minke Whale project and Eye to Eye Minke Whale Encounters where she taught marine ecology to American university students. During the university holidays, Yoland continued to work as a diving and sailing guide. Throughout her university years, Yoland gained practical field experience by helping PhD students with their research, including travelling to Fiji to help monitor the effect of Marine Protected Areas on herbivorous fishes. Volunteering has taken Yoland to South Africa, assisting at the South African Marine Predator Lab and to Manaus, Brazil where she conducted research at the National Institute for Research in the Amazon.
Since beginning her Bachelor of Laws degree, Yoland has regularly volunteered at the Environmental Defenders Office, a community legal center dedicated to protecting the environment. As a volunteer and legal placement student, she has been involved in writing submissions for the reform of shipping regulations to protect the Great Barrier Reef, drafting development appeals and educating community members about environmental law.
In 2010, Yoland was employed by the ARC Centre of Excellence for Coral Reef Studies to examine treaties that apply to marine resources in the Coral Triangle region. Yoland's research identified overlaps in legislation and aimed to improve legislative efficiency in preserving marine resources.
On finishing her undergraduate degree, Yoland began an Honors project in marine fish behavior, learning to quantify fish behavior, catch fish, and run laboratory experiments. She received a 1st class Honors result and has had her research accepted for publication in a high-impact scientific journal.
Yoland is a highly motivated, hard working student who loves adventure, travel, and working outdoors. She offers the Scholarship a strong academic record including admission to the Dean's List and recipient of the Queensland Environmental Law Association Prize for the highest results in the subject Environmental Law. Deeply interested in environmental advocacy and law enforcement, she believes to truly protect our underwater world, we need to develop high-level laws and policies, on a global and local scale, which promote sustainable use of our oceans' resources. Equally important, is some surety these laws can be enforced to protect our oceans' biodiversity for the long-term benefit of all.