Robin MacFadden Parish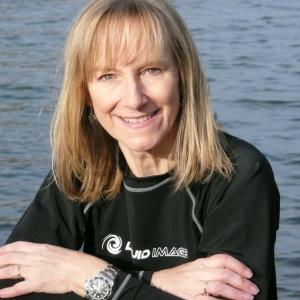 Robin's interest in marine biology sprouted during her childhood summers spent exploring tide pools on the coast of Maine, and exploded when, at the age of 10, her aunt stuck a dive mask on her face and introduced her to undersea life on a coral reef. Robin pursued every opportunity she could find in ocean-related activities and became a certified diver at the age of 16. In college she became a scientific diver, worked on an oceanographic research vessel, spent two semesters at the marine lab on Catalina Island, and was one of the first students in the college to be awarded a degree in Marine Biology. As the first female Rolex Scholar (called the "Recipient" then) of OWUSS, she met and worked with legends in diving such as Dr. Lee Somers, Ernie Brooks, Dr. Glen Egstrom, Dr. Sylvia Earle, Tom Mount, Dr. Arthur Bachrach, Dr. Eugenie Clark, Stan Waterman, and others. She became a scuba instructor (NAUI and YMCA), studied underwater photography, hyperbaric physiology, and marine pollution, learned to weld underwater, joined geological and biological research expeditions, and even went ice diving under 41 inches of ice in a North Dakota lake.
After her scholarship year, Robin worked at Steinhart aquarium of the California Academy of Sciences and was soon hired as a fish biologist with an environmental consulting company that was studying the effects of cooling-water intakes at seven west coast power plants. Later she entered a PhD program in Zoology at the University of Rhode Island, where she studied the behavioral ecology of lobsters and crabs. During grad school she was an instructor in the URI diving program, and served on the URI Diving Control Board. She married her college sweetheart, and when his job took them to the Midwest, Robin began "giving back" by volunteering with OWUSS. She started on the selection committee, and eventually got more and more involved (i.e., hooked!). In 1994 she became the National Coordinator and is now also the VP of North American Operations. She has served on the Board of Directors since 1995. She promotes OWUSS and scouts for scholar opportunities at dive shows and for several years has participated in Beneath the Sea's Marine Careers program. Although Robin feels that her work with OWUSS is her REAL job, she does have a day job as well. She and her husband run a metrology lab, which calibrates precision measuring instruments for a broad spectrum of businesses and industries. They have three children, two dogs, and assorted fish. They go diving whenever they can, which is never enough. Always passionate about marine conservation, Robin has become active as an advocate for sharks and other endangered creatures. She recently went to Capitol Hill to lobby the Senate to pass the Shark Conservation Act and continues to assist efforts to protect sharks and other elasmobranchs globally. Robin feels that her 2012 induction to the Women Divers Hall of Fame is more recognition of the success of the Scholarship Society's mission than anything else. She plans to continue to advocate for young diving enthusiasts and budding marine biologists in any way possible.