Julie Barber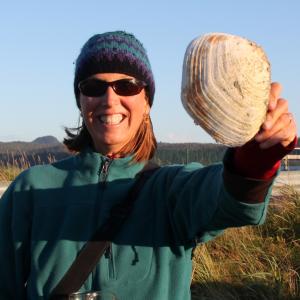 Julie is currently the Senior Shellfish Biologist for the Swinomish Indian Tribal Community in the State of Washington, United States.
While Julie traveled the world during her scholarship year, including places like Egypt, Northern Ireland, and the Galapagos, it was the experiences closer to home that really advanced her future career. Specifically, Julie discovered how fun it was to study clams while she participated on a NOAA research cruise off the coast of Massachusetts. Following that cruise and further scholarship time spent wrangling lobster, quantifying cuttlefish behavior, and tracking scallops - shellfish embedded themselves into Julie's life and she has since devoted her career to improving the sustainability of shellfisheries.
Following her scholarship year, Julie continued to nurture her other passion - cold-water diving. She worked for four years in Glacier Bay National Park, Alaska studying the foraging effects of sea otters on clams (as well as other critters) while concurrently completing her Master's degree research on the Dungeness crab fishery. Upon leaving Alaska, she spent several years leading a habitat enhancement program for the Massachusetts Division of Marine Fisheries with a focus on lobster. Finally, Julie and her husband, Jay, landed in Washington where they both work with marine invertebrates. In her current position, Julie leads a team of shellfish biologists in research and restoration projects that benefit the Swinomish people including native oyster re-establishment, the revival of Indigenous aquaculture techniques, surveying commercially-important subtidal species, and modeling intertidal clam populations. In 2010, Julie's obsession with cold-water diving helped her obtain a position as a scientific diver with Dr. Paul Dayton's team on a three-month expedition to McMurdo Station in Antarctica, where she studied the benthic organisms of Antarctic sea-floors, including sponges and clams.
Julie holds a M.S.in biology from the University of Rhode Island and a B.S. from the University of New Hampshire. In their free time, Julie and Jay love to feed their travel appetite and absorb the different landscapes, foods, and cultures of the world. She strives to find new clam shells on every dive and then leaves them right where she found them.
Her favourite dive thus far was..... seriously? Not easy to decide. Diving under the ice in Antarctica with a Weddell seal vocalizing directly into her chest and muck diving in Indonesia where octopuses abound in bivalve shells!
Take a look at Julie's work!