Michelle Fetzer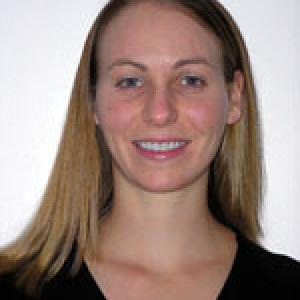 Michelle Fetzer, 23, of Gloucester City, NJ, has been selected as the Our World-Underwater Scholarship Society's 2006 North American Rolex Scholar. Michelle earned a Bachelor of Science degree in Marine Biology from Fairleigh Dickinson University (FDU) in 2004. She graduated Summa Cum Laude with a grade point average of 3.86. A winner of an Outstanding Academic Achievement in Marine Biology Award, she also received the Edward Bloustein Distinguished Scholarship, a Raytheon Company Scholarship, an ADP Scholarship, and the James A. Griffo Award.
Michelle's connection to the underwater world took root in her childhood, when she would spend summers at the bottom of a swimming pool attempting to grow gills. She became a competitive swimmer and swam on her high school and college swim teams. At FDU she was co-captain of the swim team and named Most Valuable Player. When she learned to scuba dive in 2001, she felt her dream to grow gills had come true.
Michelle's interests in marine life led to course work and research opportunities at the University of Hawaii, the Virgin Islands Environmental Research Center, and Mote Marine Laboratory. She interned on the Seal Team at the New Jersey State Aquarium and with Mote Marine Lab's Manatee Care and Research Department. Her research on blue mussel recruitment in eelgrass communities resulted in co-authorship of two publications, a stunning achievement for an undergraduate.
Michelle considers herself a "seasoned Jersey diver." She currently works in a dive shop and has enjoyed learning about diving equipment and techniques. She has Advanced Diving, Rescue, Nitrox/ mixed gas, Night Diving, and Dan Oxygen certifications and is completing her Deep Diving, Wreck Diving, and Dive Master certifications. After training in the cold, minimal-visibility waters of the North Atlantic, Michelle feels competent and ready to take on any challenging diving her Scholarship year may offer.
Michelle has a keen desire to explore and is passionate about working in and around the marine environment. Her ultimate goal is to dedicate her life to "protecting the ocean and its inhabitants, in the capacity of a researcher and underwater photographer." She has a special interest in marine mammals and dreams of studying them in their natural environment and then "capturing their essence in photographs." Michelle states that she wants "to educate people about the forces threatening marine mammals, and the conservation actions that must be taken to save them."