Jamie Brisbin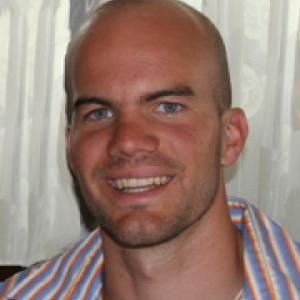 Jamie Brisbin, 22, of Setauket, NY has been selected as Our World-Underwater Scholarship Society's 2008 North American Rolex Scholar.
Growing up in Hong Kong, Jamie was influenced by the island's proximity to the ocean as well as his family's travels to seaside locations throughout Asia, so that at an early age he cultivated a love of the marine environment and an affinity for exploration. Surfing, sailing, diving, and eventually going to college in California helped expand Jamie's love of the outdoors and the ocean.
Jamie graduated from the University of Southern California in 2007 with a BS in Biological Sciences. While at USC he served as Vice Captain of their world-class varsity crew team. During his senior year, Jamie spent a semester on Catalina Island, where he undertook a rigorous course of study in marine science. His final research project investigated the effects of eutrophication on soft coral growth. Outside of class, Jamie spent most of his time diving. He volunteered at the USC hyperbaric chamber and as a scientific diver on several projects. Diving in the kelp forests of Catalina "quenched his thirst for exploration like nothing else had." At the same time his work at the hyperbaric chamber introduced him to a fascination with the science behind scuba diving.
After graduation Jamie headed to Long Island, NY, and spent the summer as part of a field research team. He worked with the National Park Service, monitoring water quality, sea grass cover, and sea grass morphometrics at Fire Island National Seashore. Currently he is a Master's candidate at the School of Marine and Atmospheric Sciences at Stony Brook University. As a graduate assistant with the New York State Department of Environmental Conservation, he is helping to formulate an ecosystem based management plan for submerged aquatic vegetation.
Jamie is keenly interested in diving safety and its role in exploring the underwater world. He is intrigued by the idea that someday diving and man's exploration underwater might blossom in the way that aviation and space exploration have. This could be achieved by increasing awareness and education, promoting a responsible attitude toward diving, and developing and using technology. He hopes to carve out a career which would allow him to be a pioneer in underwater exploration, and he feels that the Our World-Underwater Scholarship Society's Rolex Scholarship will be a great tool to help him accomplish this. He hopes that his year of exploration will allow him to help spread the message of marine conservation and stewardship through diving.