Matt Carter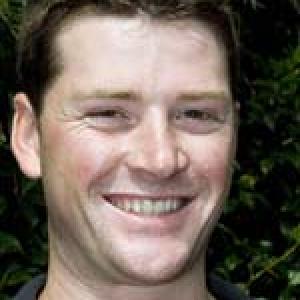 Growing up on the flat plains on the East Coast of the South Island of New Zealand Matt Carter's early views of the world were dominated by two opposing forces: to the west, huge snow capped mountains and the east, a cold blue sea that extended all the way to South America. In this imposing landscape he soon developed a deep love and respect for the sea, lakes and waterways cutting through the province. As a child Matt spent as much time as possible swimming, kayaking and generally exploring his watery back yard. His curiosity was encouraged by his parents who used family holidays as an opportunity to visit beaches and lakes. One such holiday took them to Fiji where he spent an amazing week snorkelling on coral reefs. At 16, his fascination with everything aquatic launched into a full-blown obsession when his biology teacher, also a dive instructor, taught Matt to dive.
His first breaths underwater were an absolute rush, opening up a world he had never imagined, one that has now become an integral part of his life and which he can never imagine giving up.
Just looking was not quite enough, Matt was increasingly intrigued about 'why, what and how'. What past events acted to shape it and what forces were still at work today? These thoughts took Matt back to the past, especially as it related to peoples' interactions with the marine environment and how this relationship continues to impact the modern world. His desire to learn and his passion for exploration resulted in a BA at the University of Otago, majoring in Archaeology. As his studies progressed, he became increasingly drawn to the possibilities archaeology offered for investigating the evidence of past human interaction with the marine environment and how this could inform us about the modern day underwater world. Accepted into the Honours programme in the 3rd year and then undertook a dissertation investigating the management of underwater archaeological sites in New Zealand in the 4th, resulting in a First Class Honours degree in Archaeology.
Matt is Gear Officer and member of the Executive of the University of Otago Dive Club.
In 2007 Matt enrolled in a Graduate Diploma in Maritime Archaeology. However, as no universities in New Zealand can offer this course, Matt studied at Flinders University in Adelaide. This study introduced Matt to the amazing world of underwater archaeology and to the use of different sources of evidence in order to interpret how people interact with the sea. It also included a three week field school, which introduced Matt to the difficulties, and rewards, of undertaking scientific work in an underwater environment. Matt is now an Advanced, Rescue and Dive Master, with the intent to proceed further into the areas of Tec diving and professional dive development.
In 2008 Matt was awarded the University of Otago Postgraduate Scholarship for Masters Research and subsequently enrolled in the Master of Arts Degree in Archaeology. His Masters thesis involves (1) an investigation into the ways in which prehistoric Maori and later European populations interacted with the marine environment of the Otago Harbour and (2) how this interaction has shaped the seascape into what we see today in terms of altered landscapes, reduced marine flora and fauna and polluted waterways. Currently, he is mid-way through his research.
Matt heard about the Our World Underwater Rolex Scholarship through the University and is absolutely thrilled to be the winner of this amazing Scholarship and is looking forward to a year of exploration with fellow divers, scientists and archaeologists.