Myfanwy Rowlands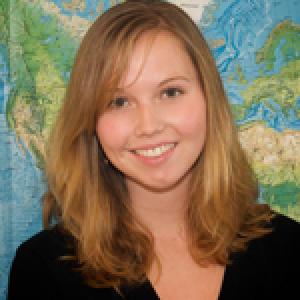 Myfanwy Rowlands, 23, grew up in the gold-rush town of Nevada City, California. While many of her friends found themselves pulled to the snow sports of the nearby Sierras, Myfanwy was drawn to the Pacific Ocean. As a young child she was fascinated by whales and dolphins, so when she was fourteen she jumped on the opportunity to attend a marine biology camp on the island of Roatan, Honduras. She earned her open water diving certification that summer and her advanced open water the next. She returned to the program in Roatan four times, eventually receiving her NAUI Divemaster certification in 2005. Her Roatan experience started her on the path she has travelled since. Now, nine years and 400 dives later, she has added scientific diving to her underwater experience and has acted as a Divemaster in three different countries. Myfanwy finds the role of Divemaster immensely rewarding, particularly when she has the privilege of working with young divers and students.
Myfanwy attended Loyola Marymount University in Los Angeles for two years before transferring to the University of California at Berkeley, where she is currently completing dual degrees in Marine Science and Conservation and Resource Studies. She is interested in finding common ground between the disciplines of biology, marine conservation, and political ecology. While in her third year of college, she studied abroad in French Polynesia and completed an individual research project examining assemblages of foraminifera in fouling communities. This past fall, she traveled to Papua New Guinea where she conducted coral reef conservation and management research with the Wildlife Conservation Society.
Myfanwy's main enthusiasm outside of marine biology has been photography. She is very much enjoying teaching a Conservation Photography course at UC Berkeley this semester. She hopes to use her photography to bear witness to the marine conservation issues and ocean crises she encounters during her scholarship travels.
Although Myfanwy found her focus on the marine sciences early and has followed that path unwaveringly, she believes strongly that life is about achieving a balance of passions, and is constantly trying to find ways to juggle her many interests: music and songwriting, theatrical lighting and sound, volunteering, teaching, almost every kind of exercise, and yes, knot-tying. As the essential shared natural resource, the ocean should be the gathering point for all countries and cultures. The Rolex Scholarship will help me discover what it is to play an active, significant role in marine conservation, by placing me side-by-side as an eager apprentice with those who are already making a difference.