Yuen M. Azu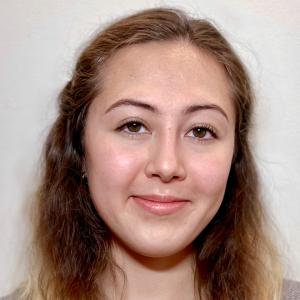 Internship:
AAUS Scientific Diving Internship
Yuen M. Azu, 21, grew up exploring the rivers and Great Lakes of Michigan but became fascinated with the ocean after snorkeling in the tropics. This experience motivated her in high school to apply for the Ocean Career Exploration and Nautical Sciences summer program at the University of North Carolina, Wilmington, which introduced her to different careers in the marine field.
As she began working on her Biology degree at Amherst College during her freshman year, she enrolled in the Five College Coastal and Marine Science Certificate program. She also obtained her Advanced Open Water scuba certification through Project Deep at the University of Massachusetts, Amherst, completing her checkout dives in the Florida Keys. From those dives she realized that she wanted to study coral reef systems.
In the summer and fall of 2021, she interned at Mote's International Center for Coral Reef Research and Restoration in Summerland Key, Florida, and returned the following summer to complete another stint. In the Coral Sexual Reproduction program at Mote, she researched fecundity and disease resistance in staghorn corals and sexually propagated Acroporids. During her junior year, she studied abroad at the Center for Marine Resource Studies on Turks and Caicos Islands in a program that includes scientific diving in the curriculum. It was there that she discovered her passion for underwater data collection.
Yuen is thrilled to be the 2022 Dr. Lee H. Somers AAUS Somers Scientific Diving intern. Earning the diving certificate will be an indispensable step for her future career in coral reef research.
Location of Internship:
AAUS Scientific Diving Internship