Phoebe Churney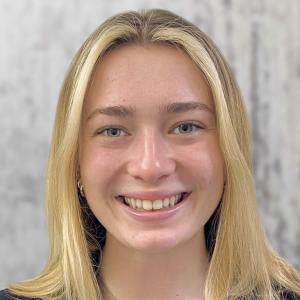 Internship:
AAUS Mitchell Scientific Diving Research Internship
Phoebe Churney, 20, is from Brunswick, ME. She is a rising senior at Maine Maritime Academy (MMA) pursuing a dual major in a 5-year program for Marine Biology and Small Vessel Operations (USCG 200-T Mate License) with minors in Physical Science and Oceanography. She became PADI Junior Open Water certified in 2016 and has since become an AAUS Scientific Diver and is in the process of completing her PADI Divemaster course.
During the summer of 2021, Phoebe was invited by Dr. Alan Verde of MMA to conduct research on octopuses at Rosario Beach Marine Laboratory (RBML) in Anacortes, WA. While at RBML, she worked as a Scientific Diver-in-Training and completed 46 scientific dives that involved transect dives for density and bottle preference data of Octopus rubescens, and night dives to collect Muusoctopus leioderma. Phoebe also worked as a water quality analyst for an ocean acidification project and held the position of Lead Aquarist for the laboratory. Based on her work with octopus husbandry and other aquarist experiences, Phoebe was awarded the 2021-2022 Marine Aquarium Societies of North America Undergraduate Student Scholarship.
Currently, Phoebe is preparing for her independent undergraduate research project for fall 2022 that involves the impacts of salinity on the metabolism and sediment bioturbation of sand dollars. Phoebe is thrilled to be chosen as the 2022 AAUS Mitchell Scientific Diving Research Intern! She is eagerly awaiting her summer opportunity to conduct research on kelp forests in the Gulf of Maine with Rasher Lab at Bigelow Laboratory for Ocean Sciences, Boothbay, ME.
Location of Internship:
AAUS Mitchell Scientific Diving Research Internship