Matthew Argame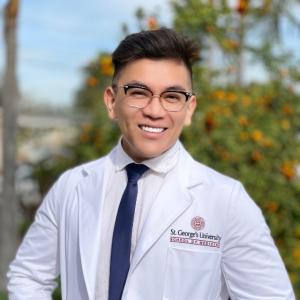 Internship:
Divers Alert Network (DAN) Diver's Health and Safety Internship
Matthew Argame, 27, was born and raised in Orange County, California. He completed his undergraduate education at California State University, Long Beach and earned a Master of Science in narrative medicine at Columbia University in the City of New York. Although he lived along the West Coast for most of his life, he only began to explore the underwater world when he moved to Grenada, a Caribbean Windward Island, in 2022. In Grenada, he completed the basic sciences portion of medical school at St. George's University, and he also received his PADI Open Water and Advanced Open Water Diver certifications as well as his SSI Advanced Wreck, Search and Recovery, Enriched Air Nitrox, Navigation, and Deep Diving certifications.
After he moved back to the United States to begin clinical rotations in 2023, Matthew wanted to continue to learn more about the art and science of diving and its impact on the human mind and body. To accomplish this goal, he continued his scuba diving education in California, Florida, Mexico, the Philippines, and Singapore, becoming a TDI Full Cave Diver and PADI Rescue Diver and Divemaster.
Matthew is honored to receive the Dr. Glen H. Egstrom DAN Diver's Health and Safety Internship. This internship welds together his interests of diving and medicine and will provide him with the community, knowledge, and skill set needed to make the underwater world more sustainable, more accessible, and safer for all. He cannot wait to move to North Carolina this summer to begin collaborating with the DAN team.
Location of Internship:
Divers Alert Network (DAN) Diver's Health and Safety Internship