Kim Hildebrandt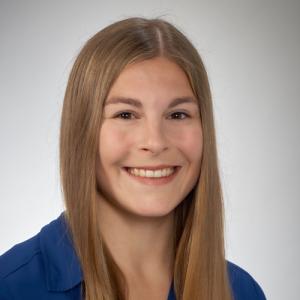 Kim, 22, is a Veterinary Medicine student with a fascination for aquatic animals, especially marine mammals. A keen sportsperson and hobby photographer with an adventurous mind, she is originally from Hamburg.
Kim has always felt a deep connection to animals and nature. Her interest for the underwater world was sparked by Frank Schätzing´s "The Swarm", leaving her wondering what is still to be discovered about marine organisms and humans' impact on them.
To indulge her curiosity, she moved to a coastal town in New Zealand and attended the Mercury Bay Area School to take focused programs on marine sciences and outdoor education. She investigated the impact of construction for new canal systems of the local river estuary on population size and health of a resident fish species, and completed Project Jonah Marine Mammal Medic training, practicing Stranding Responses to Cetaceans.
Kim also discovered her passion for scuba diving. She got certified as a PADI Rescue Diver, having dived around New Zealand´s North Island, including wreck dives on the HMNSZ Canterbury. It all evoked a long-lasting magnetism for exploring the underwater world and fuelled her wish to contribute to ocean and marine animals´ health in the future. More recently, she dived with a marine scientist while completing her Nitrox Level 2 certification, waking her interest for scientific diving.
In 2016, Kim began pursuing her childhood dream in Hannover, Germany: studying veterinary medicine. She attended extracurricular courses in Turtle Anatomy and Clinics, and a marine-biologic and ornithologic excursion on a North Sea holm, exploring veterinary practise, research and conservation work with fish and seabirds.
When Kim finished her Veterinary Preliminary Examination, ranking 5th in her year, she was drawn back to the sea, spending an Erasmus semester in Lisbon. She attended the course "Wildlife and Conservation Medicine" and gained experience in marine mammal pathology by performing a necropsy on a stranded common dolphin, whereby she learned about anatomy, physiology and parasitology.
Along her studies, Kim developed the will to follow the concept "One World, One Health", focusing on relations between anthropogenic actions, environmental changes, and the consequences for wildlife, especially in the marine environment.
Becoming the 2019 European Rolex Scholar is an invaluable opportunity for Kim to explore how to combine her mission for the future with the academic path of a veterinarian, and her love for diving, which she hopes to push to a scientific level. She could imagine getting involved in aquatic animal medicine and research, as well as wildlife and conservation work, but is eager to discover alternative paths through opportunities provided by the Rolex Scholarship of the Our World-Underwater Scholarship Society.