Jamil Wilson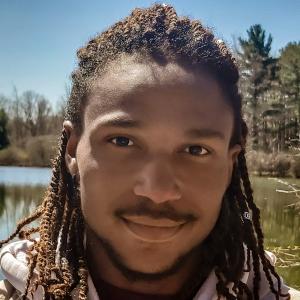 Hailing from Columbus, Ohio, Jamil Wilson often frequented the small creek behind his house as a child and developed a strong fascination with life. As a result, Jamil dreamed of being a scientist and attended college at Cleveland State University.
To support his studies, Jamil balanced being a full-time student while working no fewer than three jobs his entire college career. Jamil began to tutor K-12 kids in predominately Black areas and received the Best Tutor of the Year award during his first year. He also worked at the Greater Cleveland Aquarium, which was the perfect juxtaposition of aquatic biology and teaching, and is where he first discovered the possibility of diving.
While working and going to school, Jamil became a member of several academic groups including The McNair Scholars program, through which he had his first scientific research experience. In 2017, Jamil investigated freshwater mussels in the Ohio Rocky River, with an emphasis on the Leptodea fragilis species, in an effort to determine how populations have changed over a period of 15 years. Later he was awarded a National Science Foundation REU (Research Experience for Undergraduates) at the University of Puerto Rico. While there, Jamil built a successful experiment detailing the effects of severe hurricanes on the abundance of freshwater meiofauna communities. Enthused by his findings, Jamil began working further with specific meiofauna and wrote a research proposal outlining the limitations involved in the biochemical elasticity of tardigrades. Jamil was awarded the opportunity to present his research at conferences at multiple universities, including the University of Chicago and Cornell, and was named as one of Princeton's 2018 Ecology and Evolutionary Biology Scholar Finalists.
In December of 2018, Jamil graduated with a Bachelor of Science in Biology and a minor in Music from Cleveland State University. With his degree in hand and a deep desire to dive and travel, in 2019 Jamil traveled to six U.S cities, seven different countries and earned his rescue diver certification all in less than a year's time. In addition, he became a member of the National Association of Black Scuba Divers. In 2020, despite the pandemic, Jamil obtained a virtual internship at the Smithsonian Marine Station and began working elsewhere as an Aquatic Ecologist studying algae.
Now in 2021, Jamil is proud to be a recipient of the OWUSS Rolex Scholarship and looks forward to expanding his involvement in underwater research, discovering more about ecological activism, and further developing his diving and photography skills. In the future, Jamil hopes to educate the public on sustainable solutions to issues facing the underwater world and wishes to provide guidance for other young diverse students who are interested in the pursuit of science, diving and the restoration of our planet's waters.