Garrett J. Fundakowski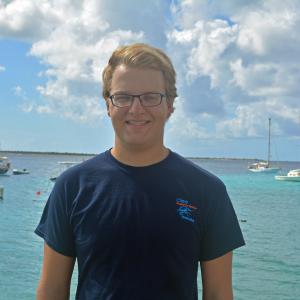 Internship:
National Park Service Research Internship
Garrett Fundakowski is a senior from Bear, Delaware. He will be graduating from the University of Richmond in May 2016 with a B.S. in Biology and Mathematics and a minor in Integrated Sciences. During his freshman year, he joined the lab of Dr. Malcolm Hill, whose research revolves around the relationship between sponges and their algal symbionts. For the past three years, he has worked on a variety of projects for the lab including a large-scale field survey of rivers and streams in Virginia to look at the distribution and abundance of freshwater sponges, in addition to a set of photosynthetic inhibition experiments in the Florida Keys to investigate the population dynamics of algal symbionts within a sponge host. Additionally, he began molecular work for a local adaptation study of a sponge species in the Florida Keys and assisted with the development and testing of a differential equation model of the dynamics of a two-symbiont, one-host scenario. During the fall semester of his junior year, Garrett traveled to Bonaire, Dutch Caribbean and studied at the CIEE Research Station. There, he obtained his Advanced Open Water, Rescue Diver, and AAUS Scientific Diver certifications and completed an independent research project on the depth dependence of filter-feeding mechanisms in sponges. These experiences have strengthened his passion for the marine environment, and he believes this internship will provide more opportunities to develop his skill set and focus his career goals.