Èric Jordà Molina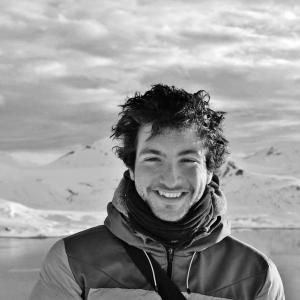 Èric, 24, is an enthusiastic diver from Barcelona. A PADI Rescue diver currently living in Norway, he has become enthralled with the Norwegian sub-arctic fjords.
His passion for the oceans started early when his parents bought him the collection of Jacque-Yves Cousteau's The Undersea World. As a child, he spent long hours snorkelling in the small coves of the Costa Brava, feeling the gentle stroke of the posidonia on his belly, playing with octopus and discovering marine life encrusted in the coastal rocks.
His fascination with the underwater world led him to complete his bachelor's degree in Marine Science at the University of Alicante, in the south of Spain. During his course work, Èric enrolled in an ERASMUS exchange at Nord University, located in Bodø in the Norwegian arctic. He studied epibenthic communities in the area of Vesterålen and learned a wide range of marine benthic taxa. His love of northern Norway inspired him to go further north to the high Arctic, enrolling at The University Center in Svalbard to take courses in Arctic Marine Biology and Arctic Environmental Management.
Èric started his Master of Science in Biology and Aquaculture at Nord University and returned to Svalbard periodically in 2017. He took some external courses in Underwater Robotics and in Arctic Benthic Ecology, with intense fieldwork on board of the R/V Helmer Hanssen and at the polar research town of Ny-Ålesund. In November 2017, he participated in a 12 day-long scientific cruise in the waters of Svalbard as a benthic research assistant.
Most recently, Èric has been working on his master's thesis, researching soft-bottom benthic communities of Tysfjord, the deepest fjord of Northern Norway. Èric has also worked as a lab assistant for the Benthic Ecology Research Unit, assisted in fieldwork and Marine Biology teaching-related activities at UiN, and performed MOM-B analysis for environmental monitoring of the seafloor in Norwegian aquaculture facilities as a field biologist.
Èric's interests also include photography, videography and illustration. By using artistic approaches, he aspires to convey that marine science is amazing and adventurous and continually offers something new to learn and discover. He has a special fascination for deep sea exploration and for the polar ecosystems, as he is certain they are still hiding innumerable secrets yet to be unveiled.
Èric hopes to gain more knowledge about diving during the Scholarship, becoming an even more proficient and solid scientific diver by the end of the experience. He sees the opportunity of becoming the next OWUSS European Rolex Scholar 2018 as a once in a lifetime chance to experience the challenges marine environments around the world are facing and to investigate how we, as a collective, can contribute to change.