Carolyn Grace Corley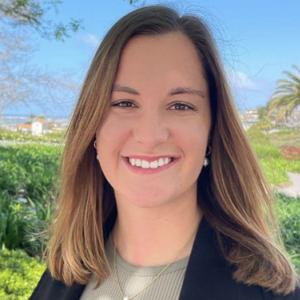 Internship:
REEF Marine Conservation Internship
Carolyn Grace Corley, 22, graduated in May 2023 from the University of San Diego (USD) with a Bachelor of Science in environmental and ocean sciences (with a focus on marine ecology) and minors in both biology and environmental studies and policy. She grew up in Simi Valley, California, and her fondest childhood memories are camping at Carpinteria State Beach with her family, swimming in the ocean, and exploring the tidepools. As a scuba diver, competitive swimmer, lifeguard, swim instructor, and marine biology student, Carolyn's life has always revolved around being in the water.
In July 2021, Carolyn traveled to Utila, Honduras, to intern for the Whale Shark and Oceanic Research Center, where she helped with invasive lionfish removal and data collection, learned to identify and monitor 250+ species of tropical fish and coral, and gained experience working for an NGO. The following summer, she returned to Utila to earn her PADI Divemaster certification at the Bay Islands College of Diving.
Over the past two years, Carolyn has completed and defended her Honors thesis research on invasive lionfish populations in Utila and the Utilan community's involvement in lionfish containment efforts. As the Outreach Coordinator and Co-President for the Surfrider Foundation USD Club, she has planned beach cleanups as well as campus education events about coastal preservation and single-use plastic reduction. Carolyn is passionate about marine conservation, community outreach, and education, and she is excited to continue to pursue these passions as the 2023 Dr. Jamie L. King REEF Marine Conservation Intern.
Location of Internship:
REEF Marine Conservation Internship