Benjamin Kistler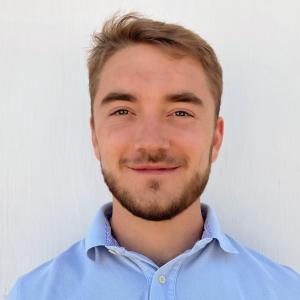 Internship:
Divers Alert Network (DAN) Diver's Health and Safety Internship
Benjamin J. Kistler, 21, is from Fort Wayne, Indiana. He studies Human Biology at Indiana University Bloomington with plans of graduating in the spring of 2022 and matriculating at medical school in the fall of 2022.
Ben grew up in North Carolina and developed a love for the natural world at an early age, exploring the state's mountains and beaches. Despite moving to a landlocked midwestern state, he found a passion for SCUBA diving and obtained Open Water and Advanced Open Water certifications. Around Indiana, he has had the opportunity to dive in lakes, quarries, and mines. He has also had the opportunity to explore shipwrecks and coral reefs in the Atlantic Ocean. At Indiana University, he enjoys hiking and exploring the great outdoors around Bloomington.
With his Physiology professor, Ben has been able to do research on cardiac and urinary point-of-care ultrasound and presented the findings at the Indiana University School of Medicine Education Day in March of 2020. He is excited for the research experience he will gain through the Dr. Glen H. Egstrom DAN Diver's Health and Safety Internship. In the future, he has hopes of becoming a hyperbaric physician and staying involved in the dive community. He also hopes to also educate explorers on the importance of ecological conservation.
Location of Internship:
DAN Diver's Health and Safety Internship